If you love camping, then a portable generator is a must.
The thing is that many feel uncomfortable with the noise of their camping generators during operation. Knowing what you're looking for, we finally come up with this article to help you find the peace at campsites.
When it comes to purchasing a quiet generator for camping, you have to consider a few things. Everybody doesn't have the same preference. Plus, there's a slight difference in picking the generator between RV camping and tent camping.
Most importantly, what generator is the quietest?
Learn more in the following…
Top 6 Quietest Camping Generators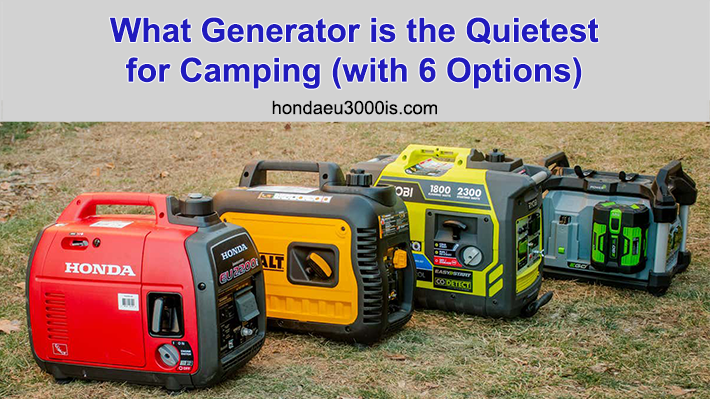 If you like tent camping, then go with a generator producing a small amount of power and having a lightweight, compact design so that you can carry it around conveniently and effortlessly.
In case you prefer RV camping more, you should choose one larger and providing greater power. These days, with a variety of options on the market, you can bring home a quiet, efficient, and not too bulky generator.
See also: The best standby generators for home use
As I said, we all have different demands for quiet camping generators.
In the following, you can check our considerations to help you pick a generator that meets your camping needs.
1. Honda EU2200i
I believe this is the most ideal choice for camping to some.
This portable generator is lightweight (just about 47 pounds) and produces 2200 watt power. With a very compact design, it's the best companion accompanying you in all camping trips. Fuel efficient, it can operate up to 8 hours with less than a gallon of gasoline.
If you want a generator with little noise, I must say that Honda EU2200i is one of the quietest on the market. Running at 48 – 57 dBA, the noise of this generator is just as loud as normal conversations or background music.
Discover best covers for Honda generators with a click
2. Yamaha EF2000iSv2
The next choice, with only 51.5 dBA at ¼ loads, is Yamaha EF2000iSv2.
Offering a maximum AC output up to 2000 watts and 120 voltages, this camping generator is pretty popular among generator users. It comes with a lightweight, compact design featuring a built-in handle allowing you to carry from place to place with ease.
Many are impressed with this generator because the Small Throttle feature not only reduces noise but also enhances fuel efficiency and balances the operation speed. Its noise level is quite low, like a conversation.
Yamaha EF2000iSv2 looks like a suitcase that will be present in all of your camping trips.
3. WEN 56200i
If you are seeking a camping generator with an affordable price, then I recommend WEN 56200i. One of the top-rated generators, its operation has a very low noise (51 dBA at quarter loads). The running power is about 2000 watts and the whole machine weights 48 pounds. For those preferring mobility and convenience, this design is definitely for you.
You can carry it around when having any outdoor activity. Guess what? Additionally, WEN 56200i consumes less gasoline but runs for a long time. It's definitely a great choice for camping as the power capacity allows you to do anything requiring power supply overnight.
Undoubtedly, this is a perfect camping companion for your power needs.
4. Westinghouse iGen 1200
Here comes another lightweight and quiet generator that will be a good pick for your camping trips. With a noise level of 52 dBA and a weight of 35 pounds, you can have peace while it's operating at the campsite and the relocation is not a big deal.
With a fuel efficient mode, Westinghouse iGen 1200 runs 0.8 gallons of gasoline for 10 hours. Compared to other generators, this one is a bit more affordable and performs steadily.
The only downside to me is that it produces the least amount of power among portable, quiet generators: only 1000 watts of running. But if you don't mind that, iGen 1200 is still a great choice when it comes to quiet tent camping generators.
5. Briggs & Stratton P2200
Want to purchase a new generator for your next adventure?
Well, the P2200 inverter generator from the PowerSmart series of Briggs and Stratton is worth your consideration. According to most consumers, it's ideal for camping due to the low noise, compact design, and efficient power.
Your journey with this companion will surely be full of comfort and fun. The generator is lightweight and easy to transport. It has the H handle helping you carry with no pressure. Just 59 dBA at ¼ loads, the noise of Briggs & Stratton P2200 during the operation is quieter than typical conversations.
In short, it offers much power but less expensive than other options.
6. Champion 3400
Whether you need power supply for your RV camping or home, have a look at Champion 3400. This is the best definition of convenience and versatility because you can power multiple appliances at the campsite.
It has a low noise level (59 dBA) and runs approximately 7.5 hours on gasoline. In case you use propane, the maximum duration is up to 14.5 hours. The inverter produces over 3000 watts and the power is clean so that you can use it for sensitive electronics. Thanks to smart economy mode and cold start technology, this generator can work in cold weather.
Go for this choice if you are prone towards a high-powered portable generator that can supply more than one appliance at once.
In Conclusion
Generally, what generator is the quietest?
We already listed the best quiet generators above. Of course, depending on everyone's preferences, they will have different choices. But, each generator does provide a level of camping safety and satisfaction for consumers to experience.
Aside from the noise level, keep in mind that you have to consider many factors when planning to buy a camping generator, such as size and fuel type. Hope our picks here can help you make a perfect decision for your needs.
If you have any info, please leave your comments below.